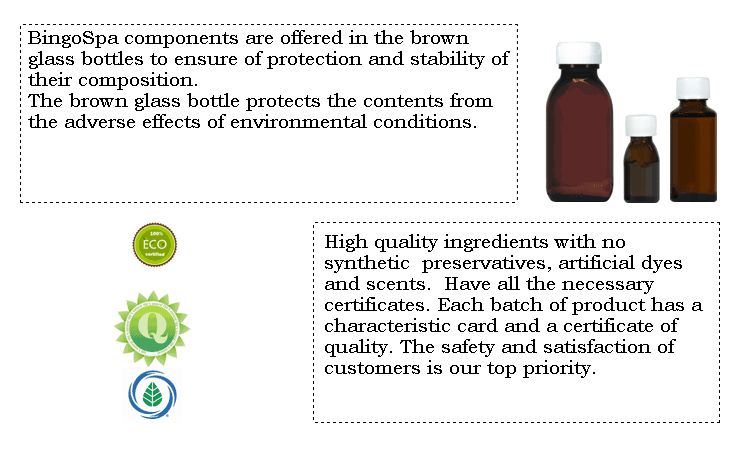 Pure BingoSpa Keratin is a family of fibrous structural proteins. Keratin is the key structural material making up the outer layer of human skin. It is also the key structural component of hair and nails.
Liquid keratin 100% contains smaller keratin protein molecules, which get into the hair shaft and repair the damage.
Thanks to its properties the keratin:
strengthens hair, improves its elasticity and firmness, adds the gloss effect making it look  smooth and healthy;
increases hair volume;
improves its strength, thanks to which it does not break during combing;
decreases the tendency to split;
improves the curls and facilitates styling;
BingoSpa keratin is also used for fingernail care:
it regenerates the damaged nail plate; strengthens and thickens it;
prevents nail breaking and splitting;
moisturises and heals cracking cuticle;
improves the condition of yellowish and discoloured nails.
Hair gets damaged under the influence of different external environmental factors such as solar radiation, wind, low or high temperature as well as combing, washing and hairdressing including hair dying or bleaching or perm.
Keratin is a natural protein of a high sulphuric amino acid content, which can be observed in nails and hair and is the main building component. The interior of the hair shaft, which is called cortex, is built of spirally curled keratin fibres connected with one another by transverse sulphur bonds, which are responsible for hair elasticity, which in turn conditions its health and glossy look and lack of tendency to split.
It is recommended to use keratin for hair, which needs regenerating, is damaged by hairdresser's procedures or hair that is brittle, dry or thin. It can be applied on healthy hair to protect it from external factors and damage.
Instructions for use: apply keratin evenly on washed, damp hair; then comb it and blow-dry. The procedure shall be repeated after each hair wash until the desired effects are obtained. Keratin can be also added to currently used shampoos and hair conditioners (masks). 
Pure keratin without formaldehyde.
30ml
Delivery & RETURNS
Delivery intormation
Standard 2nd Class Royal Mail delivery
Free second class delivery on all orders below 2kg over £30;
£2.90  for orders weighing below 1 kg
£3.90 for all orders weighing below 2 kg. Simply select "Standard" when choosing your shipping option during checkout. Delivery time is up to 5 working days from order date.
Express Delivery 1st class Royal Mail delivery will be charged at
£4.60 for orders weighing below 1 kg
£5.60 for orders weighing below 2 kg.Order by 11am on a working day (Monday to Friday) and we will deliver your order within 1-2 working days. Select "Express" when choosing your shipping option during checkout. Deliveries to remote locations (including highland or island addresses) can take up to 3 days longer. You can still choose to have your order delivered using our Express service. You will be charged for this option.
Your pack shipment
Packages are generally dispatched within 1-2 days after receipt of payment and are shipped via Royal Mail with tracking and drop-off without signature. If you prefer delivery with required signature, an additional cost will be applied, so please contact us before choosing this method. Whichever shipment choice you make, we will provide you with a link to track your package online.
Shipping fees include handling and packing fees as well as postage costs. Handling fees are fixed, whereas transport fees vary according to total weight of the shipment. We advise you to group your items in one order. We cannot group two distinct orders placed separately, and shipping fees will apply to each of them. 
Returns and Refunds
Products can only be returned if they are unopened, unused and in a re-saleable condition with any seals, packaging and any cellophane intact and unopened.
Faulty or damaged products or incorrect orders must be returned to us within 14 days after the day on which you receive the products.
Non faulty products can be returned to us for a refund provided that you notify us in writing that you are cancelling your purchase no later than the seventh working day after the day on which you receive your product.
If you wish to return or replace a product, send the product to us with a copy of your invoice. If you no longer have your invoice, please include an explanatory note quoting your order number and reason for return.