Keratin BingoSpa is a protein  epidermal and fibrous and its products such as hair and nails. It is a insoluble protein. Keratin hydrolysates in the form of water-soluble, is widely used in preparations for the care of hair and nails. Keratin spray is a hair straightening treatment that can really cut down on frizz and curls. It's a great alternative to straightening your hair every day!
BingoSpa Keratin is the main building component of the stem and cuticle, produced in hair follicles. Inside the cortex of the hair shaft hereinafter, is composed of keratin filaments twisted spirally interconnected transverse sulfide bonds, which are responsible for the flexibility of the hair. Keratin is also included in the outer cuticle, the continuity of which depends on a healthy and shiny appearance of hair and lack of tendency to blister.
Keratin BingoSpa is a valuable  active substance acting conditioning and regenerating in cosmetics to hair care and beauty. Keratin hydrolysates advantage over other compounds of similar effect is based on their ability to penetrate into and stable bond with the hair keratin chains, thus improving their appearance and properties: mechanical strength, stiffness, susceptibility to twisting and laying.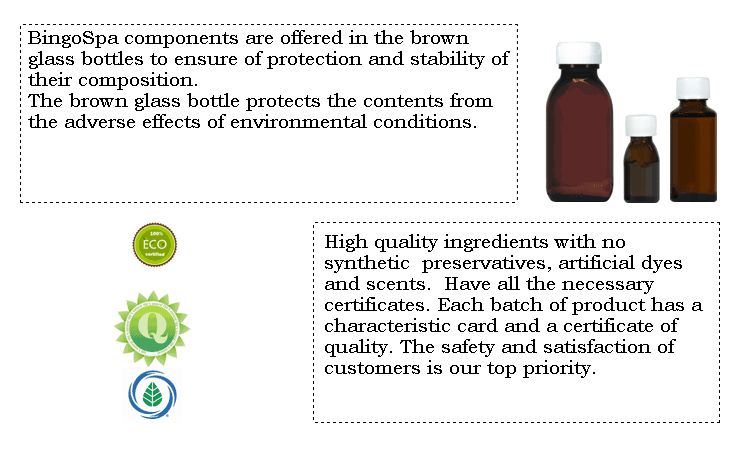 Hydrolysed keratin has become a common cosmetic ingredient. Studies have shown topical application of hydrolysed keratin gives significant increases in skin elasticity and hydration. Due to its moisturising properties, hydrolysed keratin has also been incorporated into shampoo and conditioner.
Incorporation of molecules through in damaged areas of hair casings formed under the influence of destructive chemical, physical (sun, wind) and mechanical (combing, brushing), keratin BingoSpa replenishes natural ingredients that build the structure of the hair. With this action, the hair are noticeably strengthen and noticeably increases their volume, restores shine and healthy look.
Keratin hydrolysates show the highest affinity for hair heavily damaged and weakened, while healthy hair absorb only small quantities.
Phenomenon of filling defects in the keratin structure Keratin Hair by hydrolysis is used in plant care and regeneration of hair weak, damaged, desiccated and brittle, permed, dyed and lightening.
100ml
Best before 04/2015             SPECIAL PRICE - 60% OFF
Delivery & RETURNS
Delivery intormation
Standard 2nd Class Royal Mail delivery
Free second class delivery on all orders below 2kg over £30;
£2.90  for orders weighing below 1 kg
£3.90 for all orders weighing below 2 kg. Simply select "Standard" when choosing your shipping option during checkout. Delivery time is up to 5 working days from order date.
Express Delivery 1st class Royal Mail delivery will be charged at
£4.60 for orders weighing below 1 kg
£5.60 for orders weighing below 2 kg.Order by 11am on a working day (Monday to Friday) and we will deliver your order within 1-2 working days. Select "Express" when choosing your shipping option during checkout. Deliveries to remote locations (including highland or island addresses) can take up to 3 days longer. You can still choose to have your order delivered using our Express service. You will be charged for this option.
Your pack shipment
Packages are generally dispatched within 1-2 days after receipt of payment and are shipped via Royal Mail with tracking and drop-off without signature. If you prefer delivery with required signature, an additional cost will be applied, so please contact us before choosing this method. Whichever shipment choice you make, we will provide you with a link to track your package online.
Shipping fees include handling and packing fees as well as postage costs. Handling fees are fixed, whereas transport fees vary according to total weight of the shipment. We advise you to group your items in one order. We cannot group two distinct orders placed separately, and shipping fees will apply to each of them. 
Returns and Refunds
Products can only be returned if they are unopened, unused and in a re-saleable condition with any seals, packaging and any cellophane intact and unopened.
Faulty or damaged products or incorrect orders must be returned to us within 14 days after the day on which you receive the products.
Non faulty products can be returned to us for a refund provided that you notify us in writing that you are cancelling your purchase no later than the seventh working day after the day on which you receive your product.
If you wish to return or replace a product, send the product to us with a copy of your invoice. If you no longer have your invoice, please include an explanatory note quoting your order number and reason for return.