BingoSpa Serum contains pure collagen and lactic acid. Collagen constitutes one third of the total mass of proteins forming the dermal tissue and is the most important ingredient.
After 25 years of age, the skin cells begins to wane and weaken sthe collagen fibers causing loss of firmness and elasticity and wrinkles appear . The physiological process of ageing involves a progressive transformation of soluble collagen located in the young tissue, to an insoluble form, which loses the ability to retain water. The skin loses its elasticity, becomes dry and wrinkles appear (see figure below)
(see figure below)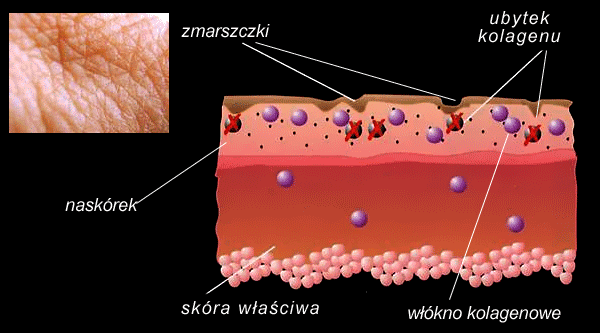 To keep your facial skin in excellent condition  and to maintain a healthy and youthful appearance , you should systematically provide collagen such as - the daily use of Lactic acid can be available by removing dead skin cells , facilitating penetration into the skin collagen.
Usage: on damp skin of the face (neck) distribute serum BingoSpa and wash gently with circular movements. After completion, wash the skin thoroughly with water and dry with a towel.
300ml
Delivery & RETURNS
Delivery intormation
Standard 2nd Class Royal Mail delivery
Free second class delivery on all orders below 2kg over £30;
£2.90  for orders weighing below 1 kg
£3.90 for all orders weighing below 2 kg. Simply select "Standard" when choosing your shipping option during checkout. Delivery time is up to 5 working days from order date.
Express Delivery 1st class Royal Mail delivery will be charged at
£4.60 for orders weighing below 1 kg
£5.60 for orders weighing below 2 kg.Order by 11am on a working day (Monday to Friday) and we will deliver your order within 1-2 working days. Select "Express" when choosing your shipping option during checkout. Deliveries to remote locations (including highland or island addresses) can take up to 3 days longer. You can still choose to have your order delivered using our Express service. You will be charged for this option.
Your pack shipment
Packages are generally dispatched within 1-2 days after receipt of payment and are shipped via Royal Mail with tracking and drop-off without signature. If you prefer delivery with required signature, an additional cost will be applied, so please contact us before choosing this method. Whichever shipment choice you make, we will provide you with a link to track your package online.
Shipping fees include handling and packing fees as well as postage costs. Handling fees are fixed, whereas transport fees vary according to total weight of the shipment. We advise you to group your items in one order. We cannot group two distinct orders placed separately, and shipping fees will apply to each of them. 
Returns and Refunds
Products can only be returned if they are unopened, unused and in a re-saleable condition with any seals, packaging and any cellophane intact and unopened.
Faulty or damaged products or incorrect orders must be returned to us within 14 days after the day on which you receive the products.
Non faulty products can be returned to us for a refund provided that you notify us in writing that you are cancelling your purchase no later than the seventh working day after the day on which you receive your product.
If you wish to return or replace a product, send the product to us with a copy of your invoice. If you no longer have your invoice, please include an explanatory note quoting your order number and reason for return.